Mitt Romney Launches Onslaught Against Newt Gingrich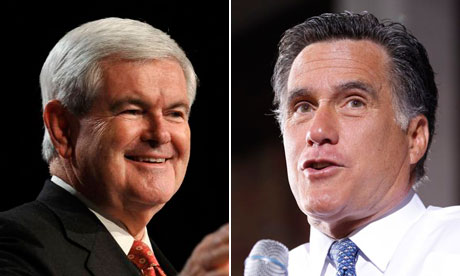 Most people in the Republican elite agreed that Mitt Romney couldn't afford to sit on his hands any longer. Former Speaker of the House Newt Gingrich was gaining too much momentum and steadily becoming the front runner ahead of the Iowa caucuses. Now, whether you believe Gingrich is a viable threat or not (I do) is a fair question but it was pretty clear that Romney was going to launch some attacks before Iowa. I didn't expect the onslaught that is about to ensue:
ROMNEY'S NEW PLAYBOOK - Opening the spigots on Newt: Often campaigns feed out their opposition material through back-door leaks and plants, or bit by bit as specific issues arise, or at opportune moments in debates. With no time to lose, Mitt Romney is blasting Gingrich through the FRONT door. Last night, reporters got this advisory: "Romney Advisers Gov. John Sununu And Sen. Jim Talent To Hold Press Call On Gingrich Record ... [At 9 a.m. today], former New Hampshire Governor John Sununu and former Missouri Senator Jim Talent will hold a press conference call to discuss Speaker Newt Gingrich's record."
--We hear Romney plans a series of Newt hits around "issues important to conservatives." The debut salvo, and topic of the conference call: FISCAL RESPONSIBILITY.
--Romney aides describe this as FIGHTING ON A SECOND FRONT: They say they'll keep their focus on Obama. He's doing a series of local-TV interviews today, and Romney has developed a "regional bracketing effort" to counter them in each market. From Playbook.
Now, I understand why the Romney camp felt the need to attack Gingrich--he was climbing in the polls, he's leading the conversation, he's building a coalition of conservative voters that could lead to an even bigger defeat in South Carolina for Mitt, and there's a lot for opposition researchers to "love" in Gingrich's record--but it's that last point that makes this move so surprising to me. Gingrich has a record that can manage to offend almost every GOP voter. Are you environmentally conservative? Think Newt and Nancy on a bench talking climate change. More socially conservative? Third marriage (unfortunate, but this is an important aspect for many voters). I could go on, but I don't have to because
almost every voter remembers something they don't like about Mr. Gingrich
.
This begs the question, why does Mitt have to get himself dirty slinging mud in such a direct way? Perhaps, Romney's team listened to outside advisers who worried they'd backed a soft candidate or maybe they just couldn't stomach watching Newt Gingrich climb and wanted to bring him back down to earth. I personally think that Team Romney wanted to prove that Mitt could fend off a challenge and make the case that he is tough enough to take on the President. In this light, it seems more reasonable as it undermines one of the biggest arguments for a Gingrich nomination--he's chomping at the bit to take on Obama in the general.
Still, no matter what the justification is, it feels pretty heavy handed and Romney doesn't have the Republican base to go about brashly attacking fellow Republicans--especially one that many view as more conservative than Romney--so I fear it will backfire to some extend and further validate Gingrich as a viable candidate.
What do you think?
Click here to receive the Political Consulting Newsletter
Popular Political Consulting Articles
Keyword tags: Newt Gingrich Opposition Research, Newt Gingrich political campaign, political campaign management, political campaigns, political consulting, political consultant, Newt Gingrich Mitt Romney, Newt Gingrich Mitt Romney Fued, Newt Gingrich Mitt Romney Iowa Caucuses, Newt Gingrich Mitt Romney ads, attack ads
Permanent link: